Last week we took a trip to El Paso to enjoy some time with family. Here are some highlights:


*Stone ate popsicles & played with cousins (Danny, Sebastian, & Luke)
*Hung out with our parents (both sides of the family!)
*Shopped at the outlet mall and watched Stone play in the "random interactive fountain"
*Swam with my dad and Lisa. Stone jumped off the diving board.
*Stone played with the Jessup's dogs
*Played at the park with Marcy (Cliff's mom), Sebastian, and Luke
*Cliff and I spoke at the University ward for our church (the congregation that the college kids attend)
*Took a Sunday nap with my mom and grandma on the same bed. So what if it's a little Willy Wonka.
*Ate LOTS of Mexican food
*Hung out at the Brackens (my cousins)
*Went on a walk along the Rio Grande
*Bennett hung out with Stone and Stone had a blast with him
*Went on a desert run with my Dad. I am an avid runner, and this was HARD, but I loved every second of it. Something about running in the desert after a night of rain. Just fabulous.
*Cliff hung out with his dad at their family ranch and shot an AK-47.
*While at the ranch, Cliff and his dad found
hundreds
of petroglyphs
*Saw my Grandma, whom we decided to start referring to as
Grandma Dotty
for Stone (her name is Dorothy)
*Saw Cliff's grandpa, whom we refer to as Abuelito for Stone.
Altogether, we had
LOADS
of
fun
. AND, despite all the Mexican food we indulged in, I didn't gain as much weight as I anticipated (and always plan on when we go home).
Sheldon (Cliff's brother) and Sebastain (below):


My cousin, Bennett with Stone (below):
Marcy and Luke (below):
Grandpa Jessup put the sprinkler on outside, and Stone just HAD to run through it:
And so we stripped him down:
Stone and Danny (below):
They had a blast w/Marcy's luggage. So long!
My cute grandma (below)
When you tell Danny to smile, this is what you get:
Ding Bumps with Grandpa Jessup & Danny (below):
And now it's Stone's turn:
And then "Papa Dan" (my dad) throws him (below):
In case you can't tell, Stone is a FISH. He looooves the water. Here he is at the random fountain at the mall:
And so we bought him some dry clothes while there. Maybe a little big. (I stole this from you, Deborah).
Too cool for school...
4 generations (below):
A walk along the Rio Grande:
What a beautiful place I'm from!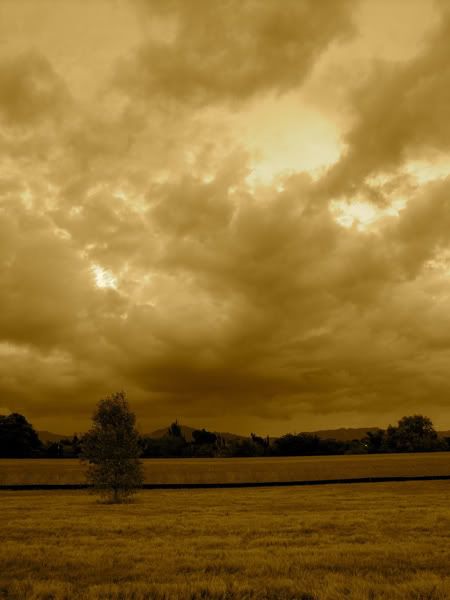 Umm, yes. That is my dad dipping Stone in the Rio.
We indulge in Mexican food every single trip. If you notice below, we have to pull EVERYTHING away from Stone. Look at his empty placemat.
Cousins on Clay's truck (Cliff's brother who is currently serving a mission for our church)Sebastian, Luke, Danny, Stone (below):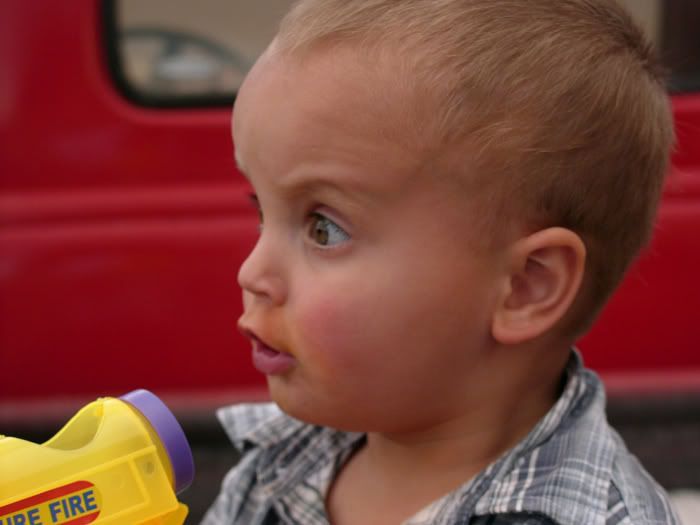 And now, in Cliff's famous truck (below).
Cliff took a trip with his dad to their ranch and took some time to study the petroglyphs that are on their site: