Last weekend we got Emerson's ears pierced! She was a champ. The thing that bugged her the most, was me holding her head down. She cried for a second when they clipped each ear, then she was back to smiling and coo-ing. She is SUCH a happy baby, and looks SO cute with her little diamond studs. Think I like having a girl? Yes. But I love my boy, too!!


My Aunt Leann made this adorable onesie tu-tu. We went out Thursday night, and I took her out in it because....well....because I can. :)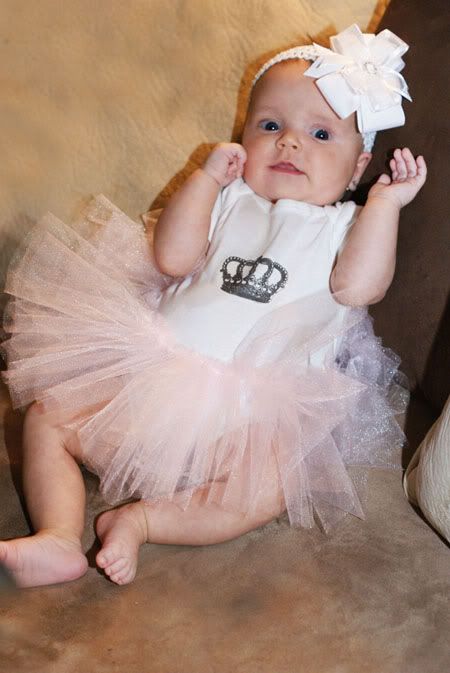 Spring is here!! I hope the weather becomes a little more consistent, and let's us enjoy Spring before jumping into Summer. Because right now....it is WONDERFUL! We made it to the park a few times this week.


LASTLY, my mom tagged me in a "facts of 4" post, and I've been meaning to post this, so here ya go:

FACTS in FOUR

Four Shows I Watch:
1. Chuck
2. Vampire Diaries
3. Modern Family
4. Life Unexpected

Four Things I'm Passionate About:
1. My Family
2. My Religion
3. Photography
4. Advertising

Four Phrases I Say A Lot:
1. "You STINKER!"
2. "1.....2......3"
3. "I know!" (Craig Ferguson accent)
4. "Love you, bye."

Four Things I've Learned from the Past:
1. Patience is a virtue
2. The importance of "being a Pollyanna", as my mom said so many times growing up.
3. Can't cuddle enough
4. Hard work pays off, one way or another.

Four Places I Would Like to Go:
1. Costa Rica
2. Australia
3. NYC
4. Hawaii (could never go enough!)

Four Things I Did Yesterday:
1. Went to "How to Train a Dragon" with my little family (overall, a GREAT experience)
2. Chatted with Carrie when she and Hadly came by to see Emerson
3. Went to Double Dave's Pizza buffet
4. Searched for something particular online.

Four Things I'm Looking Forward to:
1. Law school graduation!
2. Photographing J&S's summer wedding!
3. Consistent Spring days
4. Packing up (not that packing is desirable, but that means we get to purge and get rid of some things!)

Four Things I Love about Winter:
1. Holiday Music
2. Holiday Movies
3. Fires
4. Scarves

Four Things on My Wish List:
1. To qualify for the Boston Marathon
2. To make a studio in our home when we move
3. A vacay with the hubby
4. and #4, I'll keep a little more private

Four People I Tag:
1. Kristen G.
2. Lauren M.
3. Ayrel J.
4. Lindsay I.
5. Tanja D. ---I had to add Tanja! When I was filling this out, I forgot my old neighborhood sister is a fellow blogger!
HAVE A GREAT EASTER!!